Razorscale DEAD!
Through fireballs, blue flame and lots of lots of fish feasts, IGNH took down the mighty Razorscale tonight in Ulduar! The dragon was killed, loot was had, and screen shots were taken!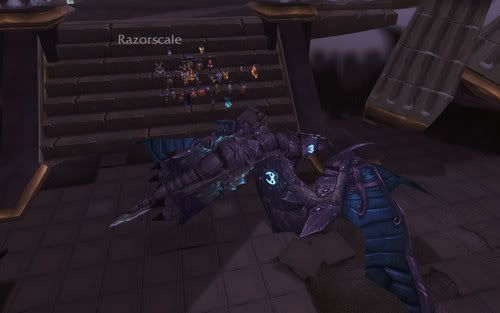 Flame Leviathan Down to IGNH!
Tonight the Fierce Raiders of IGNH climbed into siege engines, demolishers and choppers and took down the Flame Leviathan in our first trip into Ulduar. Unfortunately, we were prevented from further progress by being locked out of the instance with hundreds of other raiders. Alas. So, no boss-kill screen shot, but here's what it looked like outside the instance while we were hoping to be allowed back in to kill more bosses!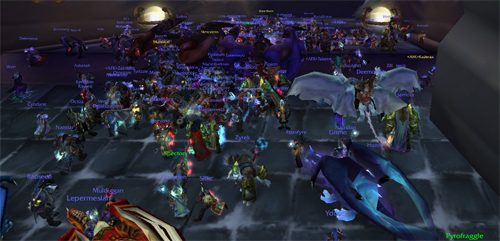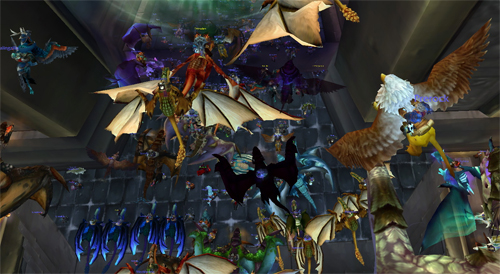 Sartharion and Tenebron fall to IGNH!!!
Sartharion+Tenebron were defeated by IGNH quickly and efficiently in a one-shot victory tonight by the guild!
Lacking other content to kill, the raiders were released to their own devices to kill other monsters of the realm.
Malygos down to IGNH
First kill was a one-shot on 5 Feb 2009! Then we killed him again 12 Feb 2009 for good measure! We don't think the silly dragon has learned to just hand over his loot to us when we walk in the door though so we'll have to smack him again next week too!

We know where you keep your loot, Mr. Malygos!